High Ropes
Our high ropes activities consist of three major sections:
Two sided rock wall,
Zip line with catwalk and multi-vine elements
Challenge pole
The climbing wall has two sides. One is completely vertical and includes a convex ledge near the top. The other side begins at an angle before turning vertical about halfway up.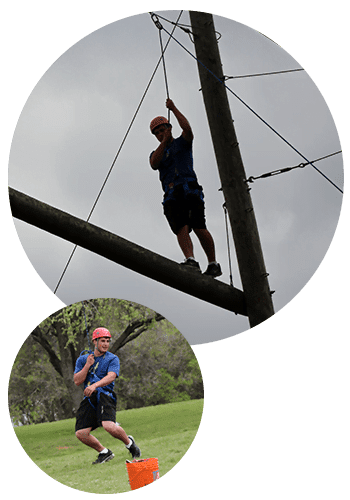 Our zip line includes two elements that lead participants to the zip line platform. One may choose to climb the telephone to the catwalk, a stationary log, the multi-vine, or hanging vines, in which one crosses a metal cable wire with hanging ropes to help them across. Once at the zip line platform a facilitator will transfer you to the zip line rope where you take the plunge down!
Our challenge pole (also called the power pole or pamper pole) is the most extreme and most challenging of our high elements! Similar to the multi-vine or catwalk, the participant climbs a wooden telephone pole. However, at the top they may choose to stand on top of the pole and jump outward to grab a hanging trapeze! We assure that this challenge will get your heart rate going!
On all high elements, participants wear a helmet and are safely strapped and checked into a waist harness with a chest harness added on the challenge pole. Participants should wear tennis shoes (No Crocs, Tom's, sandals or flip flops please!), pull hair back, and tuck away necklaces or other jewelry.
Low Ropes
Low ropes may consist of many different activities. They may range from initiative games, such as "get to know you" games and icebreakers, to challenges where participants move across an element just above the ground. Groups often ask to include low ropes as a way to bring their group closer together through trust and teambuilding. Starting with low ropes is a way for a group to start off slowly and then progress and build off of the simple activities before tackling the challenge of high ropes. Our low elements include:
Texas Skis: A team of up to eight people must stand on two long planks of wood (skis) and use the ropes attached to walk together as one.
A- Frame: One participant stands in the wooden "A" while teammates on two sides use the ropes attached to help "walk" the legs of the frame to a specified goal.
Mohawk Walk: Teams must walk from point to point along a zigzag wire cable to avoid being seen by the Indian tribe close by.
Triangle Traverse: Teams of two maneuver around a triangular wire cable off the ground while other teammates act as spotters. They may choose to crisscross one another along the path, pass off their rope to one another, or even share the same rope as they traverse.
King's Ring: Teams must figure out how to safely remove the ring (a tire) off of the King's finger (a tall wooden post).
Commitment Bridge (aka "The Wild Woozy!"): A team of two lean against one another hand to hand as the wire cables they walk on get further and further apart. Other teammates act as spotters behind and underneath the two.
How to Schedule *Ropes course only available for overnight retreats May through September (closed October through April)
In most cases, a four hour block is recommended for groups. In that period of time we can usually go through a few low elements before spending a large chunk of time above the ground on the high elements. We typically schedule groups from 8:30 AM – 12:00 PM or 1:00 – 5:00 PM during the months of May through September, but we try to work with each group to fit into their schedule while they are at camp. The Ropes Course is only available during the Months of May through September.
During the summer, it is much easier to schedule ropes any day of the week because we have many summer staffers on site to help work the course.
If you would like to add ropes to your retreat schedule, please email Toni Sidler, our Retreat Coordinator, or call her at the main office at (940)565-0050.
For specific questions about the ropes course and activities you would like to do with your group at the course, please email Matt Keller, the Head Ropes Facilitator, or call him at (940) 565-0050. Please feel free to read and fill out the Ropes Course Participation Survey. Participants must complete a release form.
Ropes Course Release Form